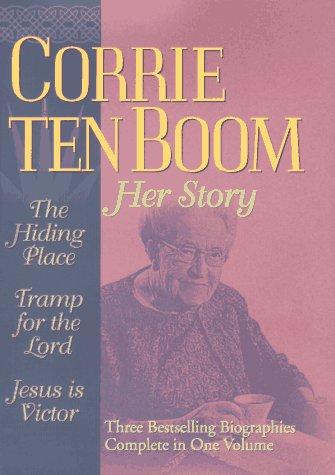 HER STORY by Corrie Ten Boom +
19.95
RW: 0-88486-126-0

THIS BOOK IS NOW OUT OF PRINT AND WE ARE LIMITED TO STOCK ON HAND!!

Corrie Ten Boom devoted her entire lifetime to God's service. The spiritual lessons she learned throughout her many experiences are collected here for the first time in three bestselling biographical works.

The Hiding Place - with over 2 million copies in print - is a spellbinding account of Corrie's harrowing experiences during World War II. When the Nazis came to Holland, Corrie and her devoutly Christian family instinctively began providing "hiding places" for persecuted Jews. Corrie spent several months in a concentration camp as a result of her brave actions, and she discovered a profound comfort: No pit is so deep that the love of God is not deeper still!

After her release from the concentration camp, Corrie set out to become what she calls a "tramp for the Lord", traveling around the world at the direction of God, proclaiming His message everywhere. In Tramp For the Lord, she relates stories about people whose lives she has touched - and those who have touched her's - in her journeys for the Lord. Her tireless travels enabled her to share with people all over the globe the many lessons she learned in God's great classroom.

In Jesus Is Victor, Corrie's warm, personal style compels you to experience the richness of God's love and power. She teaches us the secret of forgiveness and offers relief from distress, worry and fear, showing that when we trust in God, He provides the courage and the strength that we need to face life unafraid.

This item does not qualify for free shipping. However, normal shipping applies and there is never a surcharge.