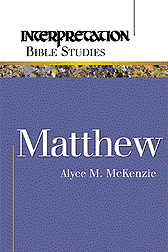 MATTHEW (Interpretation Bible Study) by Alyce McKenzie +
12.95
WJK: 0-664-22697-3

Created in the tradition of the acclaimed Interpretation commentary series, Interpretation Bible Studies provides significant engagement with biblical texts, showing how the Bible addresses issues of living faithfully today. Designed for older youth and adult Bible study, Interpretation Bible Studies is an exciting, proven resource that can be used in small groups, church school classes, large-group presentations, or personal Bible study.

To view the Leader's Guide for the Matthew lessons, click here.

This item does not qualify for free shipping. However, normal shipping applies and there is never a surcharge.