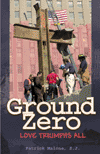 GROUND ZERO: LOVE TRIUMPHS ALL by Patrick Malone, SJ +
4.95
LIG: 0-7648-0951-2

The events of September 11, 2001 changed our nation, and indeed, the entire world. All sense of security was replaced by feelings of vulnerability, outrage, and confusion. Watching two towering monuments of civilization crumble into a formless mountain of rubble and humanity, decent people the world over searched for a way to mourn and to heal. For Fr. Patrick Malone, this search led to ground zero.

This account tells of Fr. Malone's experiences as he ministered to the recovery workers at the World Trade Center site. An inspiring declaration of the dignity of every person, Fr. Malone's diary tells of the solemnity and respect that marked the recovery of the victims. Mementos, personal effects - any trace of an article that once belonged to someone - were afforded the most gentle care and reverence. Firefighters, police, and construction workers made no distinction of rank or calling as they joined in the single-minded recovery effort that hallowed their very work. Gratitude for life, for family, and for community sprang forth freshly nourished from the results of the hatred that attempted to deny dignity to humanity itself.

Ground Zero offers powerful testimony to the value of every human being – a testament that must be most loudly proclaimed at times when it seems to be most strongly denied. This inspiring account of courage and love is a tribute to the victims, the recovery workers, and to the human spirit.

This title is not eligible for free shipping.