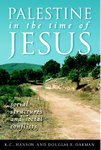 PALESTINE IN THE TIME OF JESUS ($21)
16.95
AUG: 0-8006-2808-X

Winner of Academy of Parish Clergy—Book of the Year award

In order to understand the New Testament, it is crucial to comprehend the social values and social institutions of ancient Palestine. Through a judicious use of social-science methodology, Hanson's and Oakman's enormously helpful volume explains in a readable way the primary social institutions and structures there, with a view to how they are reflected in and shape the early Jesus movement.

The book begins with an overview of the use of models (or scenarios) in social analysis, social domains, the ancient Mediterranean worldview, and how an ancient agrarian culture differs from a post-industrial society such as ours. The core of the book systematically presents major domains and institutions of family/kinship, politics/patronage, and economy, always with reference to specific biblical texts. In a concluding chapter, the authors explore the religious institutions, especially Herod's Temple system and Jesus' relation to it. The wealth of archaeological and documentary data and analysis are augmented by extensive charts, diagrams, study questions, glossaries, and suggest readings.



For more info, please see the following:

About the Author

K.C. Hanson is Biblical Studies Editor for Fortress Press.

About the Author

Douglas E. Oakman is Associate Professor of Religion at Pacific Lutheran University, Tacoma, Washington, and author of Jesus and the Economic Questions of His Day.