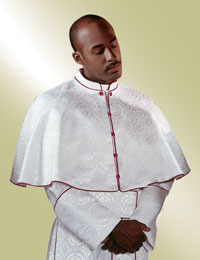 DAMASCENE SHOULDER CAPE H-61 (White) for Men and Women
149.90 139.95 On Sale!
MR: SC61

Edged with scarlet piping, this elegant white Damascene™ Shoulder Cape is designed to coordinate with the Cassock H-58. A white Satin lining adds warmth and substance to this Murphy exclusive.

Sizing: This shoulder cape is ready for shipment within 24 hours of factory receipt of order in multiple sizes to fit both men and women, with chest measurements from 38" to 57". Please supply gender and chest measurement when ordering.

Custom Capes of this style are available with delivery in 6 to 8 weeks in your choice of sizes, etc. for $147.95 (list: $161)(MR559). Please contact us for more information via our toll free number at 877-432-6745.

The Qwick-Ship® Guarantee of Satisfaction means that if you are not satisfied with any Qwick-Ship item you purchase, you may return it (unused and unworn) for exchange or refund within 10 days of purchase.