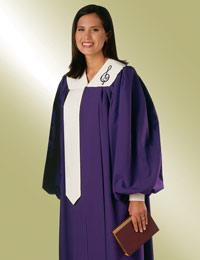 HARMONY C-32 CHOIR ROBE from Murphy with free shipping
121.00 109.95 On Sale!
MUR: HC32

You will be delighted with the vibrant new Harmony choir robe. Tailored in machine washable purple Viva with a candlelight Viva yoke, banner, and cuffs. A purple Treble Clef & Dove symbol is embroidered on the "V" necked yoke. Along with the attached mid-length front banner, this softly gathered robe features a guaranteed zipper closure and adjustable, Velcro closed cuffs.

And now you can order this popular choir robe personalized with up to three church initials, and still get "Qwick" service! You may have up to 3 letters in purple 2" Murphy script embroidered on the front banner as shown. Initials must be identical on entire order. Please allow two weeks for added embroidereed initials, plus shipping time from factory when ordering the Harmony C-32e with this custom option.

The Harmony C-32 is ready to ship within 24 hours of our receipt of your order in 18 sizes for adults and juniors. Please allow an additional 2 weeks for the embroidery on the Harmony C-32e.

Please order by size from the Harmony size chart. If you need assistance with measuring, please consult the How to Measure information. Prices are as follows:

Harmony Choir Robe C-32
Adult Sizes:
1-5 @ $109.95 (list: $121)
6 or more @ $99.95 (list: $109.90)
Junior sizes:
1-5 @ $104.95 (list: $114.35)
6 or more @ $94.95 (list: $103.90)
Harmony Choir Robe C-32e
Adult Sizes:
1-5 @ $119.95 (list: $135)
6 or more @ $114.95 (list: $123.90)
Junior sizes:
1-5 @ $119.95 (list: $128.95)
6 or more @ $109.95 (list: $117.90)
Have you considered a Garment Bag for your new robe to keep it dust-free and for travel?
Custom robes in this style for $134.95 (list: $142.40) for adults and $119.95 (list: $128.95) for juniors (orders of six or more robes).