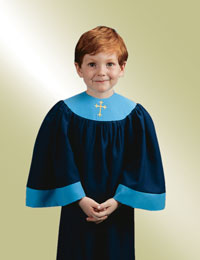 LARK S-21 CHOIR ROBE from Murphy
88.95 79.95 On Sale!
MUR: LS21

The enchanting Lark S-21 is specially designed for children and youth in machine washable Viva. Tailored in navy blue with a rainbow blue yoke and sleeve trim, it slips on over the head and closes at the back yoke with Velcro. A bright gold embroidered Latin Cross is included. Ready to ship in 8 sizes for children and young adults. For specific size, please consult the Lark S-21 size chart. Prices are as follows: Junior sizes:
1-5 @ $74.95 (list: $83.20)
6 or more @ $67.95 (list: $74.90)
Young Adult sizes:
1-5 @ $79.95 (list: $88.95)
6 or more @ $71.95 (list: $79.90)
Items designated as Qwick-Ship are ready to ship within 24 hours of our receipt of your order, when tailored exactly as shown. The Qwick-Ship Guarantee of Satisfaction means that if you are not satisfied with any Qwick-Ship item you purchase, you may return it (unused and unworn) for exchange or refund within 10 days of purchase.

Have you considered a Garment Bag for your new robe or alb to keep it dust-free and for travel?