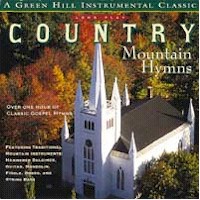 COUNTRY MOUNTAIN HYMNS (Instrumental Hymns on Traditional Instruments) by Craig Duncan ($15.98)
13.95
GH: 5011

Over one hour of cherished gospel hymns in the best selling style of traditional mountain music. You'll be swept away to a simpler time and place through the melodic sounds of these traditional hand-crafted instruments. Includes:
I'll Fly Away
Church in the Wildwood
Shall We Gather at the River
Pass Me Not
What a Friend We Have in Jesus
When the Roll Is Called Up Yonder
When We All Get to Heaven
Whispering Hope
In the Sweet By and By
Where the Soul Never Dies
Are You Washed in the Blood
He Leadeth Me
Amazing Grace
The Unclouded Day
This World Is Not My Home
Will The Circle Be Unbroken
Leaning On The Everlasting Arms
Morning Has Broken
Rock Of Ages
Bringing In The Sheaves
Instrumentation: Hammered Dulcimer, Guitar, Mandolin, Fiddle, Dobro, Autoharp, and String Bass

Running Time - 65:00

Available as a compact disc or cassette ($9.95 $10.98). Please indicate your preference when ordering. If ordering the cassette, the price will be adjusted upon receipt of your order but will not be shown on your program-generated receipt.