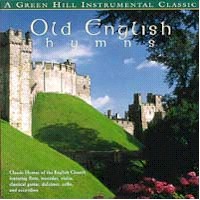 OLD ENGLISH HYMNS (Instrumental Hymns on Traditional Instruments) by Craig Duncan ($15.98)
13.95
GH: 5029

Our musical heritage began in Great Britain where hymns were born in the early days of the church. This unique instrumental recording offers the gentle and delightful sounds of the instruments and musical combinations that were the essence of music in those early times. Includes:
This Is My Father's World
For The Beauty Of The Earth
All Creatures Of Our God And King
Come, Thou Fount Of Every Blessing
All Things Bright and Beautiful
Let All Things Now Living
I Sing the Mighty Power of God
Come, Ye Thankful People, Come
Come, Thou Long Expected Jesus
Come Let Us Use the Grace Divine
O, For a Thousand Tongues to Sing/All Creatures of Our God and King
My Shepherd Will Supply My Need
Glorious Things of Thee Are Spoken
Christ the Lord Has Risen Today
Instrumentation: Flute, Recorder, Violin, Classical Guitar, Dulcimer, Cello, and Accordion

Running Time - 46:00

Available as a compact disc or cassette ($9.95 $10.98). Please indicate your preference when ordering. If ordering the cassette, the price will be adjusted upon receipt of your order but will not be shown on your program-generated receipt.