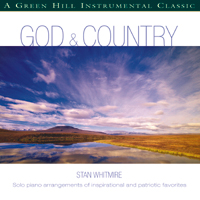 GOD AND COUNTRY (Solo Piano by Stan Whitmire)($15.98)
13.95
GH: 5311

As we search for answers, peace, and restoration in these uncertain times, our faith in God and Country provide a safe haven. Best selling pianist Stan Whitmire returns with a beautiful solo piano offering of peace and patriotism. This inspirational collection combines great songs of faith with patriotic standards and contemporary favorites in one easy listening package. These inspirational recordings remind us of the fundamental truths that keep us strong. Includes:
America the Beautiful/God Bless America
Precious Lord, Take My Hand
His Eye is on the Sparrow
The Prayer
I Hope You Dance
When You Believe
I Believe I Can Fly
The Lord's Prayer
Amazing Grace
Up Where We Belong
You'll Never Walk Alone
Smile
Battle Hymn of the Republic/The Star Spangled Banner
Instrumentation: solo piano

Running Time - 61:00

Available as a compact disc or cassette ($9.95 $10.98). Please indicate your preference when ordering. If ordering the cassette, the price will be adjusted upon receipt of your order but will not be shown on your program-generated receipt.