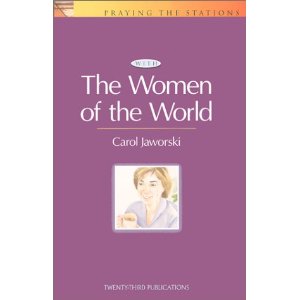 PRAYING THE STATIONS WITH WOMEN OF THE WORLD by Carol Jaworski +
2.95
TW: 1-58595-178-3

NOW OUT OF PRINT!! ONLY 40 COPIES LEFT IN STOCK SO ORDER SOON!!

This book is an invitation for both women and men alike to link the life, suffering and death of Jesus with their own lives and the lives of their sisters throughout the world. The fourteen stations highlight situations of suffering, such as oppression, abuse, poverty, and injustice, as well as the everyday suffering that affects each person, whether male or female. The prayers are poignant and heartfelt, allowing the reader to identify the passion of Jesus with life in the here and now. Beautifully illustrated, Praying the Stations is appropriate for parish and individual use, and small faith-sharing groups.

This item does not qualify for free shipping. However, normal shipping applies and there is never a surcharge.