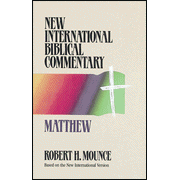 MATTHEW (New International Commentary) by Robert Mounce +
14.95
HEND: 0-943575-18-4

This volume in the New International Biblical Commentary series draws on the best traditional and contemporary scholarship in an informed, balanced way. Dr. Mounce shows how Matthew's five major teaching blocks simultaneously gave the growing early church a compendium of Jesus sayings and demonstrated how he fulfilled messianic prophecies. Technical and textual notes are kept separate from Mounces clear, section-by-section exposition. This volume, originally part of the Good News Commentary, is now completely revised and reset in the NIV.

"Robert H. Mounce . . . is a gifted educator and communicator. He blends scholarship with exposition, and the result is consistently helpful for study, encouraging for sermon or lesson preparation, and a personal blessing for those desiring to grow in understanding God's word. . . . Mounce offers insight as well as refreshment." - —Book News & Notes

Author Bio

Robert H. Mounce is President Emeritus of Whitworth College and the author of several books including a major commentary on Revelation (NICNT).

The above links require the Adobe Acrobat Reader. If you do not have the reader, click on the 'Get Acrobat Reader' button to obtain it.


This item does not qualify for free shipping. However, normal shipping applies and there is never a surcharge.