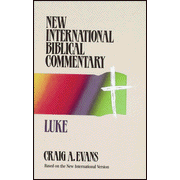 LUKE (New International Commentary) by Craig Evans +
14.95
HEND: 0-943575-31-1

Plenty of important questions vie for attention in contemporary Lucan scholarship. In this NIBC volume, Craig Evans not only demonstrates a firm grasp of them, but makes them perfectly comprehensible to laypeople. His clear writing and logical explanations lay open both difficult Lucan passages and scholarly arguments about them. This commentary is probably the best popular-level one on Lukes gospel!

"The New International Biblical Commentary is an important new series which happily strikes the balance between the detailed technical commentary . . . and the popular level commentary . . . Craig Evans' volume on Luke is a model of the series. The writer is as aware of the main questions which dominate Lucan scholarship today as he is of its methods and useful findings.
—Max Turner, London Bible College

Reviews

"This commentary fulfils the aims of the series in an admirable way. . . . The presentation of the major themes and emphases is concise and well done. Because of contemporary controversies there is a special section on the problem of the supposed anti-Semitic aspects of Luke. . . . [Craig Evans] shows his mastery of Lucan study. . . . The commentary ought to be in all theological libraries."
—P. M. Meagher, Institute of Religious Studies

Author Bio

Craig A. Evans is Professor of Biblical Studies at Trinity Western University (British Columbia). He is a frequent contributor to scholarly journals an the author of Noncanonical Writings and New Testament Interpretation.

The above links require the Adobe Acrobat Reader. If you do not have the reader, click on the 'Get Acrobat Reader' button to obtain it.


This item does not qualify for free shipping. However, normal shipping applies and there is never a surcharge.