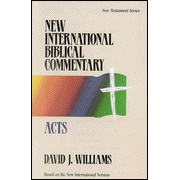 ACTS OF THE APOSTLES (New International Commentary) by David J. Williams) +
14.95
HEND: 0-943575-20-6

The International Biblical Commentary Series uses the New International Version of the Bible and is an evangelical scholarly treatment of each book of the Bible. This work on Acts by David Williams approaches the book as historical, yet takes seriously the discussion surrounding this aspect of the book. The Introduction takes into account issues of date, occasion, sources and historical accuracy. The commentary itself focuses on each event in Acts and comes with copious notes. A good commentary for the scholar and advanced lay person.

"The book of Acts is a current focus of scholarly debate, and it is valuable to have [Williams'] substantial contribution . . . careful and accurate in his background, details, and discussions . . . this is a very sound, all-round treatment of Acts."
—Colin J. Hemer†

"Williams has left virtually no stone unturned in his attempt to bring every feature of interest and debate to the reader's attention . . . this well-written commentary is recommended to all, teacher and student alike."
—Craig A. Evans

Author Bio

David J. Williams, Ph.D., University of Melbourne, Australia, is retired as Vice Principal of Ridley College, University of Melbourne. He is the author of The Promise of His Coming and of the New International Biblical Commentaries on Acts and First and Second Thessalonians. He has contributed many articles to scholarly journals, and he has also served as a translator for the New International Version of the Bible.

The above links require the Adobe Acrobat Reader. If you do not have the reader, click on the 'Get Acrobat Reader' button to obtain it.


This item does not qualify for free shipping. However, normal shipping applies and there is never a surcharge.