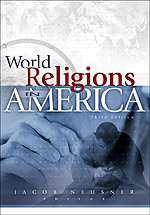 WORLD RELIGIONS by Jacob Neusner ($22.95)
19.95
WJK: 0-664-22475-X

In this the third edition of Jacob Neusner's basic, accessible, and proven guide to the world's religions as they are practiced in America, new chapters explore the Church of Scientology, Nature Religions, and the Bahai faith. In addition, the chapter on Islam in America has been expanded.

Each chapter includes study questions, essay topics, and suggestions for further reading. Contributers include Sam Gill, Martin Marty, Peter Paris, Andrew Greeley, Justo Gonzalez, Jaroslav Pelikan, Gerald Larson, Malcolm Eckel, Robert Ellwood, John Esposito, Dell deChant, Danny Jorgensen, Mike McMullen, Elizabeth Fox-Genovese, and William Scott Green.

Jacob Neusner is Research Professor of Religion and Theology and Senior Fellow at the Institute of Advanced Theology, Bard College, Annandale-on-Hudson, New York. He is the author of Classics of Judaism: A Textbook and Reader and Judaism When Christianity Began as well as the co-editor of The Religion Factor: An Introduction to How Religion Matters—all available from Westminster John Knox Press.