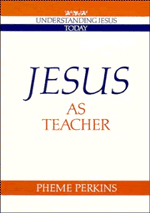 JESUS AS TEACHER by Pheme Perkins* ($11)
9.95
CUP: 052136695X

Professor Perkins compares Jesus with other types of teachers of his day: philosophers, interpreters of the law, prophets, and visionaries. Jesus is characterized as a charismatic teacher and prophet who addressed his message to all people, as opposed to the elite groups taught in formal schools in ancient times. Readers are shown how Jesus used parables, proverbs, legal and prophetic sayings to challenge the imagination and to allow his listeners to discover his message. The book contains detailed analyses of many gospel passages and covers themes of particular prominence in Jesus' teaching, including justice, wealth, forgiveness, and love.
Reviews
"It was a happy day for the common reader when Cambridge launched its series on 'Understanding Jesus Today.' If the first four titles are a true indication it is time to cheer. These handy 5 1/8" x 7 1/8", neatly, securely, and colorfully bound books are an invitation to 'take up and read.'...All who seek to know more about the Way, the Truth, and the Light in Jesus will applaud this series of handy and handsome little books on a big subject." - Congregational Journal
"Written for the layperson, these short works are packed with useful and illuminating background for understanding the life and times of Jesus. Readers will have their horizons broadened by evidence provided through extrabiblical sources such as Qumran and the Dead Sea Scrolls, the Nag Hammadi Library, the Jewish Apocrypha and Pseudepigrapha, the Jewish historian Josephus, and Roman historians such as Suetonius and Dio Cassius to mention but a few...a valuable resource...stimulating and helpful." - James D. Hernando, Advance
"...this series has the extraordinary value of bringing to the layperson the critical and contemporary issues of the study of Jesus. Understandable and inviting, the volumes contain excellent study questions, charts, indices and notes." - Duncan Ferguson, Presbyterian Survey
Contents
Teaching and learning in Jesusí world
Jesus, charismatic teacher and prophet
The style of Jesusí teaching
Adaptation of Jesusí teaching in the community
Characteristic themes in Jesusí teaching
Supplementary reading and discussion questions
Index.
Available as a paperback or hardcover edition. Please indicate your preference when ordering. If oredering the hardcover edition, the price will be adjusted upon receipt of your order but will not be reflected on your program-generated receipt. Prices are as follows:
Paperback: $9.95 (list: $11)(#36695-X)
Hardcover: $26.95 (list: $30)(#36624-0)
(Purchase of the paperback edition helps you qualify for the free shipping option if it is being offered at the time of your order. The hardcover edition does not qualify for free shipping. However, normal shipping applies and there is never a surcharge.)