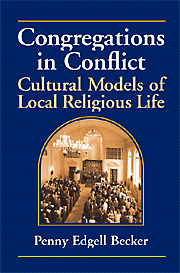 CONGREGATIONS IN CONFLICT by Penny Edgell Becker* ($21)
19.95
CUP: 0-521-59444-8



Congregations in Conflict uses the suburbs of Chicago to examine the nature of American congregations as institutions, looking in particular at how they deal with conflict within their ranks, to gain insight into religious culture. In detailed and well documented case studies of conflict in twenty-three congregations including Protestant parishes, Catholic parishes, and Jewish synagogues, Becker examines such factors as organizational processes, the extent and types of ties among church members, their shared understandings about mission and identity, and their level of public commitment. At the local level Becker finds vital "public religion": congregations that provide caring and support for members, service to the local community, and important arenas for moral debate and public activism.
Reviews
"Laments about American religion's supposed decline often proceed by looking where it isn't to be found. In this compelling study, Penny Edgell Becker explores the vitality of American religion by looking one place where it can be found - among twenty-three churches and synagogues in a suburban midwestern community. Her nuanced comparative analysis cuts across conventional distinctions between conservative and liberal religiosity, revealing four alternative cultural logics by which local congregations enact their visions of the sacred in relation to ideals of individualism, community, and social mission. This analysis in turn brings to light the divergent challenges and conflicts that various types of congregations face." - John R. Hall, University of California, Davis
"Congregations in Conflict inaugurates a new phase in the sociology of contemporary American religion. It also offers a rich resource for bringing a focus on social organization back into sociological analysis, and it provides participants in religious congregations an important opportunity to reflect upon the purposes, tension, and prospects of religion in the new millennium." - John R. Hall, University of California, Davis
"Congregations in Conflict is a model of sociological investigation. What people fight about is often the best clue to what they really value. Guided by this insight, Professor Becker shows us not only what generates conflict in congregations but also how congregations become organized around implicit understandings of who they are. She demonstrates that congregational cultures cluster into several distinct types, and that each of these types is a viable expression of Christian commitment in today's uncertain world. While casting doubt on several scholarly interpretations of American religion, this book ultimately provides an optimistic view of the vitality of religion itself." - Robert Wuthnow, Princeton University
"In Congregations in Conflict, Penny Becker engages the reader in a process of discovery whose end result is a convincing demonstration of both the distinctiveness of the local religious congregation as an institutional type and four of its characteristic manifestations. Between the headline-grabbing declamations of religious elites and the seldom expressed thoughts of those for whom they claim to speak stand three hundred thousand American congregations where religion is actually lived and fought over. Becker's comparative study of congregations is a major contribution to institutional analysis." - R. Stephen Warner, University of Illinois at Chicago
"Her dynamic examples...yield profound insights that challenge the prevailing lament about the muddled American religious scene." - Library Journal
"The research is well done (two appendixes add methodological details). Her analysis is informed by the 'new institutionalism' approach in sociology." - Choice
"[Becker's] approach enables leaders to redirect the hot energy of hospitality into a self-understanding that uses conflict constructively. She provides a fresh look at patterns of congregational life that were previously unseen or considered unimportant." - Christian Century
"Among academic professionals, those interested in contemporary religion, group conflict, and cutting-edge issues in culture and organization will find the book well worth a careful reading. From where did Becker's suburbanites get their metaphors of churches as families, communities, or houses of worship? Where and when were these metaphors worked out in our religious past? Have earlier faithful imagined their congregations differently, and if so, why have some metaphors survived while others have withered? Such questions bring Becker and her readers to intriguing intersections of sociology, religious studies, and cultural history." - American Journal of Sociology
"Overall, I found this to be fascinating and will use this material extensively in the courses I teach in Church Administration and Church Leadership. Penny Becker provides excellent social science researchon conflict in the church. I strongly recommend this book for educationors, church administrators' church consultants, and pastors who wantr to expand their knowledge fkor understanding and addressing conflict within congregations." - Missiology: An International Review
"I plan to use parts of Sanders' book in teavhing various sociology classes as an excellent example of the symbolic interactionist" - Contempoary Sociology
Browse the full text
Contents
'Who we are' and 'how we do things here'
The congregations of Oak Park, River Forest, and Forest Park
Houses of worship
Family congregations
Community congregations
Leaders
Congregations in transition
Congregational models
American Congregational religion
Endnotes
Appendices
References.
(Purchase of this book helps you qualify for the free shipping option if it is being offered at the time of your order.)