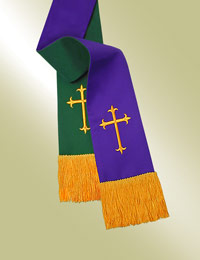 PULPIT STOLES in REVERSIBLE PAVILLION (with free shipping) from Murphy Robes
106.90 96.95 On Sale!

This two color reversible clergy stole is ready to ship within 24 hours of our receipt of order, and is backed by the Murphy Qwick-Ship Guarantee of Satisfaction.


Tailored in a variety of colors and symbols in rich Pavillion fabric

Features embroidered gold Latin Crosses or symbols on each end of both sides

Bright gold 4" rayon chainette fringe wraps both ends

This pulpit stole measures 90" in length, including fringe

Matching parament sets are also available.
Available in reversible colors with either symbols or Latin Cross. Also available in Advent Blue/Communion White or Christmas/Easter White. Please specify your preference when ordering. If ordering the Advent/Communion or Christmas/Easter stoles, the price will be adjusted upon receipt of your order but will not be reflected on your program-generated receipt.
Purple/Moss Green/Cross
Purple/Moss Green/Symbol
Purple/Hunter Green/Cross (shown above) (#12698)
Purple/Hunter Green/Symbol (#12699)
Custom stoles of this style are available with delivery in 6 to 8 weeks in your choice of colors, etc. beginning at $109.95 (list: $118)(MR924). Please contact us for more information via our toll free number at 877-432-6745.
Free ground shipping offer applies only to orders shipped within the continental US.