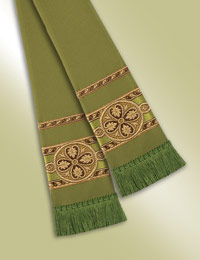 PULPIT STOLES with Fleur Banding (with free shipping) from Murphy Robes
95.95 85.95 On Sale!

This traditionally styled clergy stole is accented with borders of Paisley Trim and Fleur Banding, imported from Italy. This Murphy exclusive is ready to ship within 24 hours of our receipt of your order, and backed by our Qwick-Ship Guarantee of Satisfaction.
Tailored in Pavillion fabric;
Tapers at the back neckline;
Includes matching 2" soft brush fringe;
Measures approximately 89" long from end to end;
Self lined and interlined.
Available individually or as part of a set in the four major seasonal colors with prices as follows:
Moss Green (shown left): $82.95 (list: $92.90)(#13097)
Purple: $82.95 (list: $92.90)(#13108)
Red: $82.95 (list: $92.90)(#13094)
White: $82.95 (list: $92.90)(#13095)
Set of all four colors: $319.95 (list: $372)
If ordering the set of four, the price will be adjusted upon receipt of your order but will not be reflected on your program-generated receipt.

Free ground shipping offer applies only to orders shipped within the continental US.