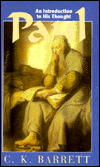 PAUL: AN INTRODUCTION TO HIS THOUGHT by C. K. Barrett +
19.95
WJK: 0-664-25541-8

This volume, written by one of the most preeminent experts on Paul, takes the reader back to the earliest days of Christianity - a time before even the Gospels were written. C.K. Barrett concentrates on Paul as a Christian thinker. He traces the development and content of his teaching in a clear and comprehensive way and demonstrates that Paul's thought evolved out of the controversies in which he was engaged. Basing his book on detailed exegesis of relevant passages and using the whole corpus of Pauline letters, Barrett provides a solid introduction to Paul. His book will be of interest to both those approaching Paul for the first time and to those already familiar with him and the enormous literature concerning him.

This item does not qualify for free shipping. However, normal shipping applies and there is never a surcharge.