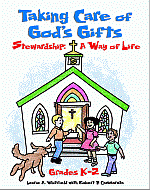 TAKING CARE OF GOD'S GIFTS by Laurie Whitfield and Robert Cammarata ($2.95)+
2.79
OSV: 1-59276

The Taking Care of God's Gifts: Stewardship, A Way of Life workbooks are filled with fun and games designed, market-tested, and proven to help each child begin to see himself or herself in a new way. In what way?
As a steward of the incredible and unique gifts God has given him or her
As an individual with a particular role to play in the building of the Kingdom of God on earth and in caring for all of God's creation
As a Catholic called – and challenged – to base his or her life on the teachings of Jesus.
Here is a way to help your young parishioners begin to develop an "attitude of gratitude" and see how they can live as stewards through their prayer, worship, offering, and action.

Paper, 48 pages. Available as single copies or in specially-priced packages of 10 for grades K-2 and 3-5. Please specify your preference when ordering. If ordering a pack of 10, the price will be adjusted upon receipt of your order but will not be reflected on your program-generated receipt. Prices are as follows:
Grades K-2 (1-9 copies): $2.79 (list: $2.95)(#019-8)
Grades K-2 (10+ copies): $2.49 (list: $2.95)(#039-2)
Grades 3-5 (1-9 copies): $2.79 (list: $2.95)(#020-1)
Grades 3-5 (10+ copies): $2.49 (list: $2.95)(#040-6)