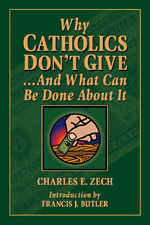 WHY CATHOLICS DON'T GIVE by Charles Zech ($19.95)*
16.95 13.95 On Sale!
OSV: 0-87973-706-9



Tired of trying to convince people to "give till it hurts?" These days a second collection or snappy slogan isn't enough to raise money for a parish, diocese, organization, or school. Why?

That's what Charles E. Zech explains in Why Catholics Don't Give...And What Can Be Done About It.

In this startling report you'll learn:
Seven things the Church must do to increase contributions
Which traditional fund-raising methods actually discourage contributions
How the donation patterns of seniors, baby-boomers, and Generation Xers differ
The often-misunderstood relationship between stewardship and fund raising
The myths behind theories that try to explain why Catholics give so little.
About the Author: Charles E. Zech, Ph.D. is a professor of economics at Villanova University. He is the co-author of Plain Talk: About Churches and Money and Money Matters: Personal Giving in American Churches.
Hardcover, 176 pages
(Purchase of this book helps you qualify for the free shipping option if it is being offered at the time of your order.)