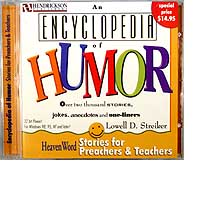 ENCYCLOPEDIA OF HUMOR (CD-ROM) by Lowell Streiker
14.95
HEND: 1-56563-500-0

Laughter is meant to inspire and heal, not belittle and harm. Lowell Streiker's new collection contains over 2,000* stories, jokes, anecdotes and one-liners organized and easily browsed by topic and title. It provides abundant "good clean fun" whenever you need inspirational slices of life, bracing quips, quotable wisdom or a refreshing dose of nonsense.

Lowell D. Streiker, Ph.D., is an inspirational humorist, speaker and author who has written, co-authored, edited and contributed to more than twenty books.

(* Note: For ease of use, many of the one-liners are grouped together in a single entry by topic.)

Works with Windows XP, ME, NT, 98, 95 and higher.