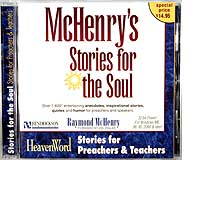 MCHENRY'S STORIES FOR THE SOUL (Book with CD-ROM or on CD) ($17.95)*
14.95 12.95 On Sale!
HEND: 1-56563-631-7



Here's the sequel to the best-selling book McHenry's Quips, Quotes and Other Notes. This full treasury has over 1,600* entertaining anecdotes, inspirational stories, quotes and humor. The stories and excerpts are current, up-to-date, right out today's newspaper. Nothing can add zest and interest to an article, presentation or sermon like astonishing statistics and little- known facts. The illustrations are set up by topics from Abortion and Adversity to Work and Youth, so it's easy to find that perfect story or humorous illustration regarding faith, family, forgiveness, love, marriage, politics, sports, work, and more.

Available as book with CD, or CD only. Please indicate your preference when ordering. If ordering the CD only, the price will be adjusted upon receipt of your order but will not be reflected on your program-generated receipt. Prices are as follows:
Book & CD: $12.95 (list: $17.97)(HEND: 1-56563-631-7)
CD only: $10.95 (list: $14.95)(HW: 1-889855-45-6)
CD works with Windows XP, ME, NT, 98, 95 and higher.
(Purchase of this book or CD helps you qualify for the free shipping option if it is being offered at the time of your order.)