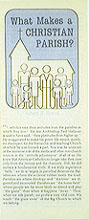 WHAT MAKES A CHRISTIAN PARISH? by Robert Howes ($20)+
17.95
LP: 0-8146-1889-8

Here is an informed and detailed blueprint for deciding what makes a Christian parish. Father Howes, a consultant in pastoral participation and planning for a Wisconsin diocese, defines the specific steps that will reawaken a parish to the mandate of Vatican II calling for "a common effort to attain fullness in unity."

Sold in packages of 100.

This item does not qualify for free shipping. However, normal shipping applies and there is never a surcharge.