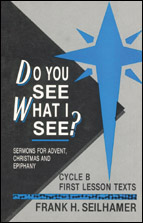 DO YOU SEE WHAT I SEE? (Sermons for Advent, Christmas & Epiphany)(Cycle B) by Frank Seilhamer ($12.25)+
10.95
CSS: 1-55673-223-6

These First Lesson sermons will make real for your congregation the anticipation and fulfillment of God's promise of salvation for his people. Thoroughly grounded in the Old Testament lectionary texts, these meditations look forward to the Good News of Christ's arrival, never losing sight of the vital Gospel message.

16 Messages Include:
On Holy Ground
Here, There, and Everywhere!
The Light In The Darkness
Gentle Jesus
Keeping Up The Pitch
"Help! Help! Help!"


Frank H. Seilhamer is the author of fourteen books and numerous articles that have been published throughout the United States, Europe, and the Middle East. He is one of the most perceptive and engaging interpreters of the Bible in the world today. A preacher, teacher and lecturer in constant demand, he has served as parish pastor, a seminary professor and president, and a leader in ecumenical relationships involving inter-Christian and Jewish-Christian dialogs in North America and Israel. Trained as a biblical scholar with a Ph. D. in Near Eastern languages and literature and Jewish history and religion from the John Hopkins University, Baltimore, Maryland, and the Dropsie University, Philadelphia, Pennsylvania, he has also done extensive study in Rabbinic literature. Dr. Seilhamer is also an ordained minister of the Evangelical Lutheran Church in America.

This item does not qualify for free shipping. However, normal shipping applies and there is never a surcharge.