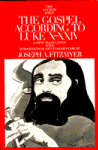 GOSPEL ACCORDING TO LUKE (Anchor Bible)(Chapter 1-9)(Hardcover) by Joseph Fitzmyer, SJ +
59.95
RH: 0-385

The Gospel According to Luke is Joseph A. Fitzmyer's two-volume study of Luke which are included in the Anchor Bible series of new book-by-book translations of the Old and New Testaments and Apocrypha. Volume 1 includes chapters 1 to 9.

Included in Volume 2 is Fitzmyer's work on chapter 10, in which Jesus continues his journey to Jerusalem, through chapter 24, his Resurrection and appearances. The translation relies on the commentator's familiarity with the Greek and Semitic languages, while the exegesis commands a thorough knowledge of the vast cultural, technical, and linguistic information he has gathered from an international selection of Lucan literature. Each of the fifteen chapters here is studied and discussed in respect to the Gospel as a whole, Acts, and the Old Testament. The two indices refer to both volumes on Luke.

In "joining the spirit to the letter" and scholarship to faith, Joseph A. Fitzmyer has produced a work which Theological Studies described as "extraordinarily learned and rich...a benchmark in Lucan studies." Available in two volumes. Please indicate your preference when ordering. If ordering both volumes, the price will be adjusted upon receipt of your order but will not be reflected on your program-generated receipt.
Volume 1: $59.95 (#00515-6)
Volume 2: $49.95 (list: $60)(#15542-5)(eligible for free shipping)
Both Volumes: $99.95 (list: $120)(with free shipping)
(Purchase of this title helps you to qualify for the free shipping option if it is being offered at the time of your order.)