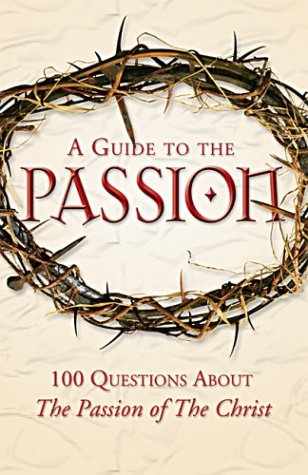 GUIDE TO THE PASSION OF THE CHRIST by Matthew Pinto et al +
6.95
ASC: 1-93264-542-X

Mel Gibson's stunning film, The Passion of the Christ, has touched thousands of hearts since its release. It has been called "the most powerful film ever produced" about the life and death of Jesus. Yet, despite its visual and emotional impact, the dramatic events portrayed do not explain themselves; they often give rise to perplexing questions. This book helps you delve a little deeper into some of the movie's profound riches-the passion of Christ.

About the Authors:

Matthew Pinto, Author of Did Adam & Eve Have Belly Buttons? and Friendly Defenders Catholic Flash Cards, Co-editor of Amazing Grace for Those Who Suffer and Amazing Grace for the Catholic Heart...

Thomas Allen, President of CatholicExchange.com, the #1 traffic Catholic Website (per Alexa)...

Marcellino D'Ambrosio, Ph.D., Executive Director of Crossroads Initiative, Adjunct Professor of Theology, Ave Maria University, and Author of Exploring the Catholic Church book and video

Persons who purchased this book also purchased:
Dolorous Passion of Our Lord Jesus Christ by Anne Catherine Emmerich;
Tortures and Torments of the Christian Martyrs by Rev. Antonio Gallonio; and,
The Bible, the Jews and the Death of Jesus from US Conference of Catholic Bishops.

This item does not qualify for free shipping. However, normal shipping applies and there is never a surcharge.