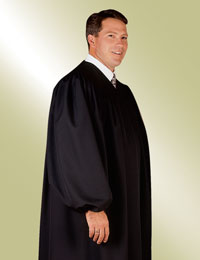 BAPTISMAL ROBE H21 (Black)(with free shipping) from Murphy
125.90 117.95 On Sale!
MR: H21

The H-21 Black Baptismal Robe is ready to ship within 24 hours of factory receipt of order, and backed by the Qwick-Ship Guarantee of Satisfaction.


Tailored in black Viva, a sturdy, drip-dry polyester fabric

Lead weighted hem keeps robe from floating when entering the baptistry

Elastic wrist opening on sleeves

Zipper closure guaranteed for life of robe

Full length front opening makes robing quick and easy

Stocked to fit most adults
To find your size, see the Murphy Robes page.

To measure sleeve length, bend the arm at the elbow and hold arm out in front, parallel to the floor as if looking at a watch. Then, measure from the center back of the neck at the base of the neck, over the top of the shoulder, around the extended elbow, and down to the wristbone. Record this sleeve size on the Order Form, rounded up to the nearest full inch. Do not round down.
Prices are as follows:
1-5 @ $117.95 (list: $125.90)
6 or more @ $112.95 each