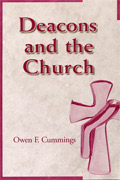 DEACONS AND THE CHURCH by Owen Cummings ($16.95)*
13.95 11.95 On Sale!
PP: 0-8091-4242-2



Deacons and the Church is a comprehensive overview of the permanent diaconate that provides a unique combination of theological reflection, historical analysis, and pastoral problems and issues. Written by a permanent deacon, it sets as point of departure the restoration of the diaconate at Vatican II. From there, it follows the history of the diaconate from Jesus onward, pausing to consider those who serve as stellar examples of deacons for deacons: Lawrence of Rome, Ephrem of Nisibis, Francis of Assisi, and Nicholas Ferrer of Little Gidding. He discusses the deacon and liturgy, reflects on the spirituality of the deacon, the dysfunctional deacon, and the interface between the sacraments of Holy Orders and Matrimony.With its one-of-a-kind combination of theological, historical, and pastoral emphasis, enhanced by the personal experience of the author, this book is a must-have for deacons and anyone interested in the diaconate.

Table of Contents:
Introduction
The Mature Catholic in Today's World
The Permanent Deacon and Vatican II
Jesus the Deacon
A Brief History of the Diaconate
Deacons for Deacons: Lawrence of Rome, Ephrem of Nisibis, Francis of Assisi, Nicholas Ferrer
Liturgy, the Deacon and the Parish
The Spirituality of the Deacon
The Diaconal Marriage
The Dysfunctional Deacon
Loving the Church
Reviews:
"Dr. Cummings has crafted a skillful introduction to the diaconate in the contemporary church. By weaving thematic strands of di
About the Author:
Owen F. Cummings is Regents' Professor of Theology at Mount Angel Seminary, St. Benedict, Oregon, and a permanent deacon of the diocese of Salt Lake City. A Scotsman himself, he grew up in Glasgow. He was educated in theology at Trinity College, University of Dublin and under Dr. Macquarrie at the University of Glasgow. He has written several books and numerous articles on theological and church issues.
(Purchase of this title helps you qualify for the free shipping option if it is being offered at the time of your order.)