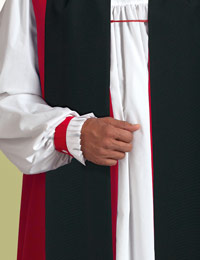 BISHOP'S PLEATED CUFFS H140, 141 & 200
43.90 39.95 On Sale!
MUR: PCH140

Designed to be used with the Rochet H-139, these button-on cuffs [in your choice of Scarlet (H140), Purple (H141) or Black (H200) to match a chimere of the same color] allow you to add a touch of formality quickly and easily. Ready to ship the next business day following our receipt of your order, it is backed by the Murphy Qwick-Ship Guarantee of Satisfaction.
Features include:
Tailoring in white Poplin Viva wristband
Button-on rochet cuff attachment

Custom Cuffs of this style are available with delivery in 6 to 8 weeks in your choice of sizes, fabrics, etc. starting at $48.95 (list: $53)(MR627). Please contact us for more information via our toll free number at 877-432-6745.
Stocked to fit most men. Please order the same size as rochet by consulting the Men's H Size Chart.