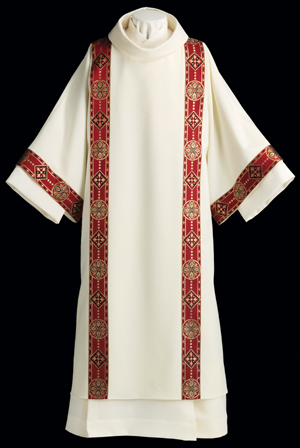 DALMATIC WITH BRAIDING (with free ground shipping)
399.95
CHAG: 50D

These dalmatics are made of lightweight tropical polyester fabric in White, Off-White, Green, Advent Purple, Lenten Purple, Red or Blue with imported braiding in your choice of Hunter Green, Lenten Purple, Advent Purple, Red, Gold or Blue. Please indicate your preferences when ordering.

Also available with horizontal bands on the front for an additional $25, or front and back for $50. (Both horizontal bands are normally placed above the waist. If you desire alternative placement, please provide measurements from neckline for each of them in the text box provided on the ordering page.)

Available in four braiding styles: 50/50 (shown left) and three others. Please indicate your preference when ordering.

Collars are also available in three styles. Please indicate your preference when ordering.

May be ordered with a name label for an additional $15 for up to 15 letters (name will be as entered as on your order unless otherwise specified in the text box on the order form).

Orders for these vestments will receive free ground shipping in the continental US.