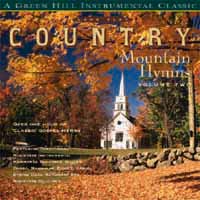 COUNTRY MOUNTAIN HYMNS Volume 2 by Craig Duncan ($15.95)
13.95
GH: 5375

Once again we bring you over one hour of traditional hymns presented on authentic mountain instruments and arranged by producer and multi-talented musician, Craig Duncan. Twenty-one hymns in all. Approximate running time: 64:00 minutes. Click here for audio sample.

Titles include:
Just a Little Talk with Jesus
There is Power in the Blood
Wayfaring Stranger
The Lily of the Valley
How Great Thou Art
Do Lord/ This Little Light of Mine
Swing Low, Sweet Chariot
Blessed Assurance
Just Over in the Gloryland
I Surrender All
The Old Time Religion
Send the Light
Just as I Am
When They Ring the Golden Bells
Victory in Jesus
I Need Thee Every Hour
I Am Bound for the Promised Land
At Calvary
Sweet Hour of Prayer
I Saw the Light
Instrumentation: Hammered Dulcimer, Guitar, Mandolin, Fiddle, Dobro, Banjo, Autoharp, and String Bass
Available on compact disc or cassette [$9.95 (list: $10.95)]. If ordering the cassette, the price will be adjusted upon receipt of your order but will not be reflected on your program-generated receipt.