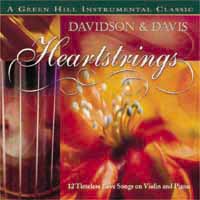 HEARTSTRINGS by David Davidson & Russ Davis
15.95
GH: 5081

Intimate. Romantic. Sensitive. These are just a few words to describe this endearing collection of cherished love songs by violin/piano duo David Davidson and Russ Davis. The perfect recording for candlelight dinners and intimate moments with loved ones.

Titles include:
Evergreen
Love Me Tender
Chances Are
Summer Me, Winter Me
And I Love You So
Longer
Lady
If
One Hand, One Heart
All the Things You Are
What Are You Doing the Rest of Your Life
The Nearness of You
Instrumentation: Violin and Piano

Available on compact disc or cassette [$9.95 (list: $10.95)]. If ordering the cassette, the price will be adjusted upon receipt of your order but will not be reflected on your program-generated receipt. Also available as part of a 3 Volume set, Dinner Music Romance Collection, at an extra special price.