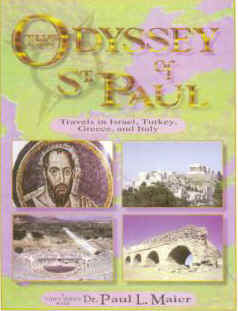 ODYSSEY OF SAINT PAUL (Bible Study Guide only) by Paul L. Maier ($39.95)
19.95

BIBLE STUDY GUIDE ONLY!!!

Filmed on location in Israel, Greece, Italy, and Turkey, Dr. Paul Maier covers the life, ministry and teachings of one of the most written about figures in history...the great apostle St. Paul. The video series contains eight video segments of approximately 25 minutes. The Bible Study comes complete with a leader's guide containing reproducible study material.

Aside from Jesus himself, no one has had a greater influence on the founding of Christianity than Paul of Tarsus. Among his many achievements, three are of prime importance: 1) as a powerful, tireless missionary, he spread the faith to Asia Minor, Greece, and Italy; 2) his letters, which form much of the New Testament, present a basic theology for Christianity; and 3) more than anyone else, he brought Gentiles into the early church, not only Jews, thus "universalizing" the faith. The accompanying 12-page guide includes a map, summary and discussions questions for each segment, and a bibliography, all of which may be duplicated for partipants.

Includes eight parts presented by Dr. Paul L. Maier:
1) Young Saul ‹ A survey of his roots and education in Jerusalem, as well as his conversion on the Damascus Road.
2) The New Saul ‹ His desert experience and early ministry in Cilicia.
3) The First Mission Journey ‹ Paul and Barnabas bring the Gospel to Cyprus, Pamphylia, and Galatia.
4) Quarrels and the Second Mission Journey ‹ A great dispute is solved by the Apostolic Council in Jerusalem, Paul defends the Gospel in Antioch, and then takes Silas on a second mission journey.
5) The Second Mission Journey and Greece ‹ Paul arrives in Philippi, travels to Thessalonica and Athens, and anchors his ministry in Corinth.
6) The Third Mission Journey ‹ Ephesus in Asia Minor is the target of Paul's campaign for Christ.
7) Arrest and Imprisonment ‹ Paul is attacked at the temple in Jerusalem and is treid before the Roman governors Felix and Festus.
8) The Voyage to Rome ‹ Having appealed to the emperor, Paul sails to Rome but is shipwrecked in Malta. The following spring he arrives in Italy and welcomes his fate in Rome.

Dr. Paul L. Maier is the Russell H. Seibert Professor of Ancient History at Western Michigan University. He is the author of 15 books which have been translated into a dozen languages, including the national best-seller in relgious fiction, "A Skeleton in God's Closet." His research on St. Paul appears in the book, "In the Fullness of Time." He has also appeared in the video series, "Jesus ‹ Legend or Lord."

A superb resource for any one studying the origins of Christianity and the critical role that Paul of Tarsus played in those origins. Beautifully filmed on location in the very places where Paul lived and walked, it enables the viewer to visualize the entire career of one of the most significant men of history. Its fidelity to the evidence of the New Testament about this man's life, both historical and theological, makes it a superb tool for individual and group Bible studies…Dr. Maier brings to bear on his recounting of Paul's life a wealth of extra-biblical knowledge, derived from literary texts from the ancient world and archaeological discoveries. This interweaving of biblical material with evidence from the other sources makes for a compelling celluloid study…I recommend this series to believers everywhere who want to deepen their understanding of the roots of their faith. It is a tremendous tool for learning about a key figure in the history of the early Church as well as the passion that gripped his life-the glory of God that shines in the person of Jesus Christ.

Michael A.G. Haykin
Professor of Historical Theology and Reformed Spirituality
The Toronto Baptist Seminary, Toronto
and
Adjunct Professor of Church History,
The Southern Baptist Theological Seminary, Louisville, Kentucky
It is most heartening to see the continued outpouring of excellent historical works being produced by Dr. Paul L. Maier, one of the premier historians of our time. This is especially true because of the fact that Dr. Maier does not ignore the important and Christian aspects of our Western Christian history, but gives them accurate and sympathetic coverage. His writings have been a help and an encouragement to me and I am sure to many thousands of others.

D. James Kennedy
Senior Minister
Coral Ridge Presbyterian Church
Click here for a video sample.
This title is also part of a specially-priced video set for home use (does not include the study guide materials) along with Christianity: The First Three Centuries, Christianity and the Competition and Jesus: Legend or Lord?.
Only available as a bible study guide.