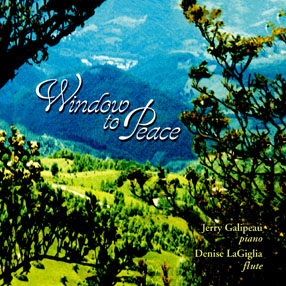 WINDOW TO PEACE Piano & Flute Reflections by Jerry Galipeau & Denise LaGiglia ($17)
14.95
WLP: 2529

An awesome instrumental CD for quiet times and spaces. Features innovative piano and flute duets. Perfect listening for home, the car, the classroom. Includes:
Peace Is Flowing
Where Charity and Love Prevail
Holy, Holy, Holy
Of the Father's Love Begotten
Stirrings of the Soul
Let All Mortal Flesh Keep Silence
O Sons and Daughters
Praise We Christ's Immortal Body
The King of Love
For the Beauty of the Earth
Morning Awakens
Day Is Done
Christians, Praise the Paschal Victim
When Love Is Found
Jerry Galipeau is Worship Resources Editor at World Library Publications in Schiller Park, Illinois. Before coming to World Library, he served for fifteen years as Director of Liturgy and Music at parishes in Florida and Illinois. He has presented workshops nationally and internationally on the Rite of Christian Initiation of Adults, liturgical spirituality, ritual music, and adult spiritual formation. Past chair of the Board of Directors of the North American Forum on the Catechumenate, Jerry has been a frequent team member for Forum's institutes. He earned the Doctor of Ministry with a concentration in liturgical studies from Catholic Theological Union at Chicago in 1999.
Jerry's music and piano recordings, Shall We Gather and Window to Peace, are published by World Library Publications. Author and editor of Pastoral Patterns and a regular contributor to AIM magazine, his articles have also appeared in Catechumenate, Liturgical Singer, Pastoral Music, and Church magazines, as well as Sourcebook for Sundays and Seasons from Liturgy Training Publications in Chicago. Prayer Services for Parish Life, a must for priests, deacons, and pastoral ministers, is Jerry's latest book, published by WLP in 2004.
Denise LaGiglia is a spiritual director, pastoral minister, free-lance musician, recording artist, author, and presenter. She has a BA in Music from Mundelein College, IL, has completed study at the Liturgy Institute of Chicago (now the Parish Liturgy Program of the Office for Divine Worship) and received a certificate in spiritual direction from the Institute of Spiritual Leadership in Chicago, where she is currently an intern.
She is continuing her studies in the area of spirituality at the Institute for Pastoral Studies/Loyola University towards an MA in Pastoral Studies. Besides her free-lance work, Denise serves regularly as instrumentalist or cantor at several Chicago archdiocesan parishes.
Denise and her husband have five children and five grandchildren.