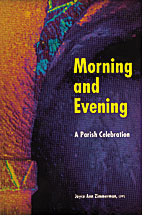 MORNING AND EVENING PRAYER: A PARISH CELEBRATION by Joyce Ann Zimmerman, CPPS ($12)+
10.95
LTP: 1-56854

The presider, cantor and accompanist can use the leaderís book during prayer. The order of service given here has been designed as a first experience of these ancient prayers of the church, an experience that will be engaging. Ten forms of prayer are provided: Evening Prayer for Advent, Christmas/Epiphany, Winter in Ordinary Time, Lent, Easter, Summer in Ordinary Time, Fall in Ordinary Time, and Morning Prayer for Advent/Christmas/Epiphany, Lent/Easter and Ordinary Time. General celebration notes guide the preparation of the worship space, the vestments, incense, music, scripture readings, intercessions and postures. Manual is unbound, three hole-punched for use with your own seasonal binder.

Liturgy of the Hours can be an integral part of parish prayer. The long and varied history of this prayer attests to its power. The parish celebration book examines the rhythm of everyday living and its relationship to daily prayer, the development of the Liturgy of the Hours, the 1971 revision of the rite, the structure and flow of Morning and Evening Prayer, and practical ideas for celebrating Liturgy of the Hours in the parish or in other settings. Paperback, 6 x 9, 88 pages.

The participantís booklet is coordinated with the leaderís manual, Morning and Evening: Order of Service. For the same ten forms of Morning and Evening Prayer, it presents an order of service that includes the assemblyís responses, hymns, psalms and canticles. Available in the formats noted above. Please indicate your preference when ordering. If ordering the celebration book or participant's booklets, the price will be adjusted upon receipt of your order but will not be reflected on your program-generated receipt. Prices are as follows:
Order of Service: $10.95 (list: $12)
Parish Celebration Book: $8.95 (list: $10)
Participant's Booklet (set of 20): $17.95 (list: $20)
This item does not qualify for free shipping. However, normal shipping applies and there is never a surcharge.