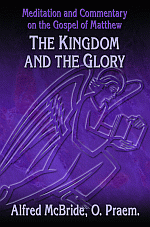 GOSPEL OF MATTHEW: The Kingdom and the Glory by Alfred McBride, O. Praem.+
12.95
OSV: 0-87973-355-1

Christ will come again in majesty and splendor. Explore the Gospel of Matthew with this commentary. These books by McBride are superb for individual study, and they're also long-time favorites for classes and study groups.

This item does not qualify for free shipping. However, normal shipping applies and there is never a surcharge.