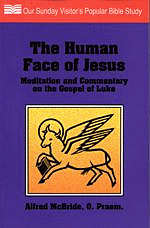 GOSPEL OF LUKE: The Human Face of Jesus by Alfred McBride, O. Praem.+
12.95
OSV: 0-87973-358-6

Luke, the physician, puts a human face on the divine. A reflection on the Gospel of Luke. These books by McBride are superb for individual study, and they're also long-time favorites for classes and study groups.

Persons who purchased this book also purchased the Director's Guide by Alfred McBride.

This item does not qualify for free shipping. However, normal shipping applies and there is never a surcharge.