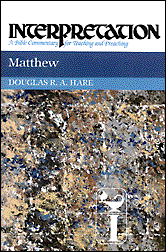 MATTHEW (Interpretation Commentary by Douglas Hare)($29.95)*
24.95 19.95 On Sale!



(Purchase of this book helps you qualify for the free shipping option if it is being offered at the time of your order.)

Please be aware that the entire New Testament set of Interpretation commentaries is also available on CD-ROM for $199.95 (list: $299.95).