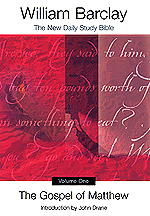 MATTHEW (Commentary by William Barclay)($15.95)*
12.95
Though we find the Gospel of Matthew first in the New Testament, many scholars believe that the Gospel of Mark is older. Matthew then is often seen as an expansion of Mark, incorporating most of the content of Mark while also adding sections that contain the teachings of Jesus, such as the Sermon on the Mount, and stories about the birth and infancy of Jesus. The phrase "This was to fulfill what the Lord had spoken by the prophet" appears sixteen times in the Gospel of Matthew suggesting an emphasis on fulfilling the Law and the Prophets, and implying that a Jewish audience may have been the first hearers of this Gospel. For them then and for us today, the Gospel of Matthew presents Jesus as one who is "God with us" even until the end of time. Ever question what may have been meant by the statement, "You are Peter and on this rock…"? Are you puzzled by the cursing of the fig tree by Jesus or by his comments about moving mountains? William Barclay discusses these and many other interesting matters in this second volume of the Gospel of Matthew. Readers will profit by the depth of scholarship, the honesty of appraisal, and the grace of style with which Dr. Barclay deals with difficult topics such as marriage and divorce or the danger of riches. With a lively translation and engaging commentary, Barclay's comments on the latter portion of Matthew's Gospel are great for daily readings.
For almost fifty years and for millions of readers, The Daily Study Bible commentaries have been the ideal help for both devotional and serious Bible study. Now, with the release of The New Daily Study Bible, a new generation will appreciate the wisdom of William Barclay. With clarification of less familiar illustrations and inclusion of more contemporary language, The New Daily Study Bible will continue to help individuals and groups discover what the message of the New Testament really means for their lives.
Professor William Barclay (1907–1978) was a world-renowned New Testament interpreter and Professor of Divinity and Biblical Criticism at Glasgow University in Scotland. Having written more than fifty books, he is probably best known as the author of the seventeen New Testament volumes in The Daily Study Bible series.
Available in two volumes. Please specify your preference when ordering. If you are ordering both volumes, the price will be adjusted upon receipt of your order but will not be reflected on your program-generated receipt. Prices are as follows:
Volume 1: $12.95 (list: $15.95)(#22491-1)
Volume 2: $12.95 (list: $15.95)(#22492-X)
Both Volumes: $25.95 (list: $31.90)
(Purchase of this title helps you qualify for the free shipping option with a total purchase of more than $35 and if it is being offered at the time of your order.)