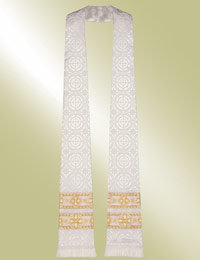 BENEDICTION STOLE (from Murphy)(with free shipping)
194.90 169.95 On Sale!
MUR: 13485

Damascene® Benediction Stole is part of a complete Benediction ensemble exclusively available from Murphy. Ready for shipment within 24 hours of factory receipt of order, and backed by the Murphy Qwick-Ship Guarantee of Satisfaction.
Features woven white and gold metallic Fleur Bandings imported from Italy
Measures 108" long from end to end
Construction details include

2" brush fringe
White Satin lining
Innerlined for lasting shape retention
A matching Benediction Cope and Chasuble are also available.

Custom tailored stoles of this style are available with delivery in 6 to 8 weeks in your choice of sizes, fabrics, etc. starting at $252.95 (list: $264)(MR090). Please contact us for more information via our toll free number at 877-432-6745.
Orders for these stoles will receive free ground shipping in the continental US only.