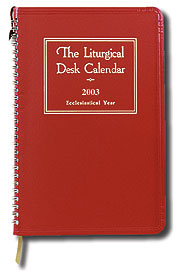 LITURGICAL DESK CALENDAR AND POCKET SECRETARY (2015 & 2016)(RC & Episcopal)($17.50)+
15.95
FJM: DSKCAL

The Liturgical Desk Calendar has been used throughout the world for over 40 years and is available for Roman Catholics and Episcopalians. The 2016 calendar includes five color printing with complete liturgical information for each day of the year, beginning on Sunday, November 29, 2015.

Wire bound in leatherette stay flat binding, it includes a special section in the back of the book which features the entire year 2017, one page per month, for easy advance planning. Also includes tables of Special Observances, Religious Holydays, Civic Holidays, Canadian Holidays, Ecumenical Religious Observances, as well as Orthodox, Islamic and Jewish Observances for 2016 and 2017. Full calendar tables for 2015 to 2017. Measures 6½" x 9¾".

Use the two-year custom portfolio with velcro flap to hold both the 2015 and 2016 calendars and a writing tablet [$23.95 (list: $26.95)].

There is also the 2015 and 2016 Liturgical Pocket Secretary which measures 3.75" x 6.5" with a square-inch space for each day, plus each month at a glance.

Finally, the RC Desk Calendar is also now available in Spanish.

Please indicate your preferences when ordering. If ordering the two-year binder, two-year portfolio or the pocket secretary, the price will be adjusted upon receipt of your order but will not be reflected on your program-generated receipt. If ordering the binder in addition to the calendar, please use the text box provided on the order form or order each separately. Prices are as follows:
Desk Calendar (2016)(RC or Episcopal or RC Spanish): $15.95 (list: $17.50)
Desk Calendar (2015)(RC or Episcopal or RC Spanish): $17.50
Pocket Secretary (2015 or 2016)(RC or Episcopal): $6.95 (list: $7.50)
Portfolio: $23.95 (list: $26.95)
This item does not qualify for free shipping. However, normal shipping applies and there is never a surcharge.