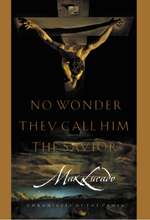 NO WONDER THEY CALL HIM THE SAVIOR by Max Lucado ($12.99)
9.95

Its tragedy summons all sufferers, its hope lures all searchers—no one can ignore the Cross. In this compelling quest for the Messiah, bestselling author Max Lucado invites readers to meet the blue-collar Jew whose claim altered a world and whose promise has never been equaled. Readers will come to know Jesus the Christ in a brand-new way as Lucado brings them full circle to the foot of the Cross and the man who sacrificed his life on it.

This bestseller focuses on Jesus and the vital importance of the cross to the Christian faith and our daily lives.

"Ian was a student at a university where I was visiting. I found out that he wanted to be a Christian, but was disenchanted. "I grew up in the church," he explained. "I wanted to go into the ministry. But I quit. Something just didn't click." He summarized his frustration. "Don't talk to me of religion. Go to the essence. What really matters?" You've probably wrestled with this question. Maybe you've gone through the acts of religion and faith and yet found yourself at a dry well. Prayers can seem empty, goals unthinkable. But resting on the time line of history is the part that really matters.
Its tragedy summons all sufferers.
Its absurdity attracts all cynics.
Its hope lures all searchers.
Find out what really matters in No Wonder They Call Him the Savior." (From the book flap) Includes Bible study questions for discussion and reflection, as well as related Scripture passages for each chapter. 199 pp.

Available in paperback or hardcover. Please indicate your preference when ordering. Prices are:
Paperback: $9.95 (list: $12.99)(Save 23%!!)(#388-2)
Hardcover: $13.95 (list: $19.99)(Save 30%!!)(#598-2)