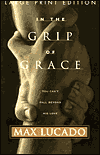 IN THE GRIP OF GRACE by Max Lucado ($14.99)*
12.95 11.49 On Sale!

(Reflections principally on the Letter to the Romans.) Can anything separate us from the love that Christ has for us? Does God really love us forever? How does God feel about me when I mess up, fail or fall short of expectations? When I snap at anything that moves, when my thoughts are in the gutter, when my tongue is sharp enough to slice a rock? How does he feel about me then? In this book, Lucado reminds us that the God who made us is strong enough to sustain us. Includes short study guides with questions and suggested Scripture passages for each chapter. 235 pp.

Contents

Acknowledgments

Introduction: The Greatest Discovery of My Life

The Parable of the River (Rom 1: 21-32)

PART ONE: WHAT A MESS!
God's Gracious Anger (Rom 1: 18-20)
Godless Living (Rom 1: 21-32)
Godless Judging (Rom 2: 1-11)
Godless Religion (Rom 2:17 - 3:18)
PART TWO: WHAT A GOD!
Calling the Corpses (Rom 3:21-26)
Where Love and Justice Meet (Rom 3:21-25)
Credit Where Credit Is Not Due (Rom 3:27 - 4:25)
Major League Grace (Rom 5:1-3)
The Privilege of Paupers (Rom 5:6-8)
PART THREE: WHAT A DIFFERENCE!
Grace Works (Rom 6:11-12)
Turning Yourself In (Luke 22:54-62)
Sufficient Grace (2 Cor 12: 7-9)
The Civil War of the Soul (Rom 7: 7-26)
The Heaviness of Hatred (Matt 18:21-35)
Life Aboard the Fellow-Ship (Rom 15:7)
What We Really Want to Know (Rom 8:31-39)
Conclusion: "Don't Forget to Look After Me"

Notes

Study Guide

Available in large print paperback or hardcover. Please indicate your preference when ordering. If ordering the hardcover, the price will be adjusted upon receipt of your order but will not be shown on your program-generated receipt. Prices are as follows:
Large Print Paperback: $11.49 (list: $14.99)(#3726-4)
Hardcover Edition: $21.95 (#1809-X)
(Purchase of this book helps you qualify for the free shipping option if it is being offered at the time of your order.)