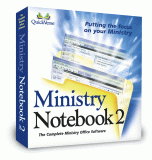 MINISTRY NOTEBOOK 2 ($29.95)
24.95 19.95 On Sale!

Essential Organizational Tools for Today's Ministry -- A must have for today's Pastors, Music Ministers, Bible Study Teachers, Deacons and Lay Ministers. Now you can organize all your ministry-related paperwork with this collection of database applications that track your expense reports, sermons, prayer requests, telephone contacts -- even your own personal reference library. Ministry Note book organizes everything you need right on your PC, making it easy for you to focus on what's important: your ministry.
With Ministry Notebook 2.0 you can focus more time on your ministry and less time on the day-to-day details!
New Features
Ministry NotebookTM 2 Scheduler lets you track all your important appointments, events, and holidays, and provides a Day, Week, and Month view for the data. Additionally, you can define recurring appointments, and you can set up tasks and mark them as completed.
Contact Manager lets you track an unlimited number of people, their information, and a complete contact history with them.
Reporting features include new professional-style reports for each module, along with a fully-functional and easy-to-use Report Designer so ANY report or chart in the program can be edited, or brand new ones created.
Import and Export items from/to/ Outlook, your Palm or PocketPC device, and over 8 different file types.
All new user interface provides Detail View, List View, and Calendar View for all of the records in each module.
Expense Reports
Track your expense reports as you travel, and produce organized expense reports when you return. Just print blank expense forms, record expenses as you incur them, and then transfer your information to the program.
Contact Manager & Scheduler
Record every aspect of your phone ministry from counseling to outreach to recruiting volunteers. You always have a record of the date and time of each call, the phone number, the people you talk to - even notes about your conversations. Link with Membership Plus (sold separately) for quick access to the names and phone numbers of your church members.
Library Books
Maintain an organized record of all the books, videos, CD's, and sheet music you own. Record titles, authors, editions, publishers, ISBNs, LCCN's, and much more. Never lose a book again! Keep track of when and to whom you've lent anything in your collection.
Sermon & Lesson Tracker
Keep your sermons and lessons categorized and organized every time you prepare a sermon or lesson in your Windows word-processor, you can record the title (with a summary), the file location (with a link to open it directly), the date and the location you preached or talked, and related Bible references.
Prayer Requests
Record all your prayer requests and other concerns including helpful information like the nature of specific requests, when they were made - even when they were answered.
Features
Organizes and tracks business-related information for the pastor including mileage, contacts and expenses.
Categorizes and records ministry-related information including sermons/lessons, prayer requests and contents of personal library.
Allows user to store location and other information on books, videos, sheet music, tapes, CD's, etc. Provides place to record title, author, edition, publisher, ISBN, LCCCN. And keeps track of books borrowed or loaned.
Calculates mileage and reimbursable amounts. Stores trip information including date, origin and destination. Optionally copies information from mileage to expense reports.
Eases expense reporting by tracking individual expenses incurred and producing reports that can be submitted for reimbursement.
Links with the Membership Plus 7 for retrieving member and schedule information.
And much more...
System Requirements
Product Configuration
1 CD-ROM
Platform
Windows 98, Me, 2000, & XP
CPU
Pentium II or higher (or equivalent)
RAM
64 MB
Hard Drive
25 MB available space
Printer
Support
Works with most popular printers supported by Windows