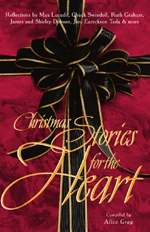 CHRISTMAS STORIES FOR THE HEART (Compiled by Alice Gray)($12.99)
10.95 9.95 On Sale!

This gift book edition of Christmas Stories for the Heart offers an uplifting collection of many of the best Christmas stories ever told. The heartwarming and tender treasury—another release in the bestselling Stories for the Heart series from Alice Gray—includes stories by several of America's most respected and loved Christian communicators. Divided into three sections, "Christmas Treasures," "Once Upon a Christmas Time," and "Christmas Reflections," it's the perfect holiday gift to give or to keep for readers who want to curl up by a crackling fire and renew their faith, hope, and love for the holiday season.

41 stories of Christmas including:
The Manger Was Empty;
Trouble at the Inn;
Nativity, by Philip Gulley;
"Where's the Baby Jesus?";
The Legend of the First Christmas Tree, by Joni Eareckson Tada;
The Christmas Guest;
The Legend of St. Nicholas and the Gold;
The Arrival, by Max Lucado;
Daily Gifts, by Charles Swindoll;
The Birthplace of the King, by William Barclay;
The Glory of Humility, by Philip Yancey;
Keeping Christmas, by Peter Marshall; and,
A Christmas Prayer, by Robert Louis Stevenson.