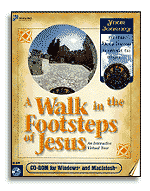 WALK IN THE FOOTSTEPS OF JESUS ($19.95)
16.95 14.95 On Sale!

Visit the Church of the Nativity, see where Jesus fed the multitudes, and even walk inside the Garden Tomb. It's all right on your screen - in full-color, 360 degree perspective! Take a guided tour complete with introductions to each picture and important historical and cultural information to get you acquainted with each site. Use your mouse to turn around, go inside buildings, up and down staircases or see photos of related places on your tour.