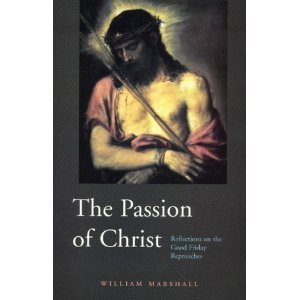 PASSION OF CHRIST, THE by William Marshall +
12.95
TW: 1-85607-184-7

The main symbol of Christianity is the cross. Throughout the year, and especially in Holy Week, Christians turn to the crucified Christ with repentance, thanksgiving and re-dedication. The Good Friday Reproaches are among the many forms of devotion which help Christians to enter more fully into the meaning of Christ's passion.

In this book of biblical spirituality, William Marshall explores the Reproaches for their insights into Christ's work on the cross, noting how they speak not only to the understanding but to conscience, imagination and feeling. God is not an uncaring, aloof spectator of the human scene but cares passionately for his wayward human children, to the extent that he pleads with them from Christ's cross and opens up the way to himself by the cross.

The story of Israel's Exodus from Egypt gives the background and language of the Reproaches. 'I led you out of Egypt, from slavery to freedom, but you led your Saviour to the cross.' It is argued that the Reproaches are addressed to the whole human race. As we all share in the 'reproach' of Christ's death, so we can all share in the blessings which flow from it. The trials and condemnation of Christ, the mocking and scourging, his thirst and his being 'lifted up' on the cross, are examined as elements in Christ's saving work. A final chapter looks at some of the traditional theories of the atonement.

William Marshall is Vice-Principal of the Church of Ireland Theological College, having previously served a number of years in parish ministry. He is a Canon of Christ Church Cathedral, Dublin. His previous book, O Come Emmanuel, discussed the coming of Christ in terms of the Advent Antiphons and is also published by The Columba Press and APCK.

This item does not qualify for free shipping. However, normal shipping applies and there is never a surcharge.