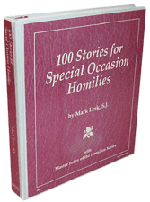 100 STORIES FOR SPECIAL OCCASIONS by Mark Link +
44.95

Contains over 100 stories for use in homilies for: Father's Day, First Communions, Funerals, Graduation Ceremonies, Healing Services, Mother's Day, Reconciliation Services, Social Awareness, Thanksgiving and Weddings. Also includes a thematic index of Sunday Homilies, Series I and II, and a story index of the Sunday and Daily Homily Series.

This item does not qualify for free shipping. However, normal shipping applies and there are no surcharges.